Jobs in the spotlight
There are no job offer for the moment in this country.
Become a TCR expert
TCR is a world leader in Ground Support Equipment for Airports.
To support our growth, we are always looking for experts to strengthen our team.
The company offers expertise in Maintenance & Ramp Assistance and Fleet Management.

Through the years we've identified a few key traits that are common among our most successful employees. Ranging from passion and accountability, integrity and open-mindedness, these traits form the foundation of our culture and we hold them in highest esteem. In the end, it's a simple proposition: At TCR we are not only experts at what we do, we are also proud of how we get things done.
Countries

0

Employees

0 +

Presence in airports

0 +

GSE assets for rental

0 +

units

Why join TCR?
Testimonials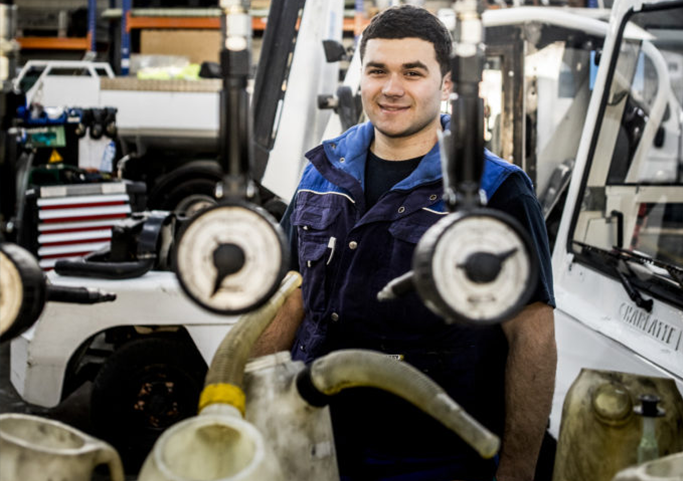 Alexandru Saghin
C'est génial de pouvoir travailler sur de tels engins. C'est très gratifiant de regarder un pushback sur lequel on a travaillé bouger un énorme avion de passagers sur le tarmac. On a l'impression d'être un vrai expert.
Our values
La passion

Nos collaborateurs passionnés représentent la force motrice de TCR. Ensemble, nous formons une équipe solide réalisant de grandes choses.

L'intégrité

Nos valeurs font notre force. TCR forme un cadre de travail agréable, dans lequel la confiance et le respect des employés priment.

La responsabilité

Nos experts assument la responsabilité de leurs actes. Chaque collaborateur est un expert dans son domaine de compétences. Nous faisons ce que nous disons et disons ce que nous faisons.

L'ouverture d'esprit

Nous sommes des entrepreneurs dotés d'une approche pragmatique. Nous nous inspirons mutuellement et utilisons notre créativité pour élaborer des solutions.
À propos de TCR
TCR est le leader mondial de la location et de la maintenance d'équipements
sur les sites des aéroports.
Nous sommes constamment à la recherche d'experts pour renforcer nos équipes et faire grandir notre société.
Plus d'info